Concrete and Concrete powder are amazing decorative blocks that you're able to use in your Minecraft builds to add color and depth. They're popular blocks in creative servers, but with a bit of effort, you can incorporate them in your classic survival server's builds. In this tutorial, we will go through how to make concrete powder and then transform it into concrete.
Required Materials
You will need 4 sand, 4 gravel, and 1 color dye of your choosing. You will also need one crafting table to craft it all, and a body of water to turn your powder into solid concrete.
Making the Concrete Powder
Go to your crafting table and right-click on it.
Add the items (1 dye, 4 sand, and 4 gravel) to the crafting table, Unlike other recipes, the order you place them in doesn't matter.
Now that all materials/items are added to the crafting table, 8 concrete powders should pop up on the right side of the table.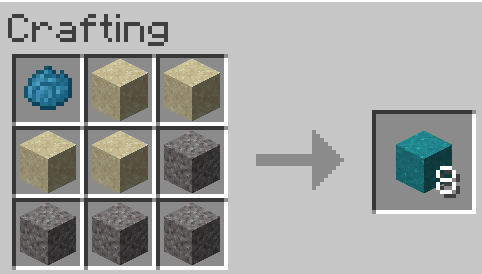 Transforming the concrete powder into concrete
Transforming the concrete powder into concrete is a very simple process. All it needs to come in contact with water, but it needs to be a body of water – In other words, it can not be from rain, cauldrons, or water bottles. It needs to be by a sea, river or by you placed using a bucket.