There's plenty of ways to advertise a Minecraft server – Some are extremely effective, some maybe not so much. In this article, we're going to be looking at how you can promote your Minecraft server via Minecraft server lists, and how to optimize your listing to get the most players out of it.
Posting your Minecraft server on a server list is usually free and pretty straightforward. You're given the option to upload a banner & fill in a couple of text fields – It only takes about 5 minutes to do it, then the players start flooding in, right? Well, not exactly, as you may have guessed. If you don't want your server to get lost in a directory among thousands of others, you need to follow a time consuming procedure, quite similar to SEO (Search Engine Optimization), that aims to optimize your listing and improve these three vital areas:
Increasing Impressions: The actual number of people that see your listing,
Improving CTR (Click-Through Rate): The percentage of people, out of those who see it, that click on your listing,
Boosting Conversion Rates: The percentage of people, out of those that see it, that copy your IP address.
All of those are extremely important and need to be targeted individually. Then there's obviously the factor of retaining those players on your server in the long term, and getting them to convert into paying customers, but that's beyond our scope of this article.
Increasing Impressions
Let's start our optimization by increasing impressions. There's three things you can do to acquire more impressions:
Get your server higher on the list. This is pretty self explanatory, but the higher your server is ranked, the more views it will get. Most people will only go through the first (and maybe second) pages of the list, very rarely will they search any further than that. Our data shows that only about 1.2% of people who visit our survival servers page continue onto the second page – Most pick a server on the first page directly! You can get your server higher on the list by either prompting your existing players to vote, or by purchasing a sponsored slot.
Get listed in more categories. To make things clear, you should not add your server in irrelevant categories. This will not result in an increase in players. What you should do, however, is make sure you've listed all the game modes your server has and all the versions your server supports. To take things one step further, you can install a plugin like ViaVersion, which will allow your server to be accessed by even more players that are using a newer or older client version than your server. By listing your server in more categories, you'll appear in more lists, therefore be seen by more people.
Get listed on more websites. Some server lists perform better on Google, some better on Bing, some may use search or display ads, and some may have a strong social media presence. Point being, each gets a different share of players via different mediums, there's no reason why you shouldn't take advantage of them all.
CTR
Then comes the trickiest part, improving your CTR. CTR is a number that's usually pretty low, maybe around 3%. This is because people usually click on one of the first few results.
The easiest way to increase your CTR, is, again, to go higher on the server list. People will usually click on the first or second result. Think about it, when was the last time you didn't click on the first result in Google?
There is, however, is huge difference between the results in a search engine, and a server list – And that is banners. Banners make the CTR pattern look more like that of an image search results page than a web results page. Humans are very visual-centric beings, they see something they like and they click on it. Banner optimization is key to getting a good CTR. Even if you had the #1 slot, a "bad" banner will result in very poor CTR!
Your server banner needs to be designed in such a way that it:
A: Grabs the user's attention, no matter what it's actual position is on the page.
B: Lets the user immediately know the server can offer exactly what they're looking for, without the user having to actively read through it.
C: Indirectly encourages the user to click to learn more.
A: Grabbing Attention.
A big part of this is related to your banner's color palette. You need to find colors and shades that will really stand out against the competing banners on the page, ESPECIALLY the ones directly above and below. You need something that will guide the readers eye towards your banner with no more than a quick glance at the page.
Bright and vibrant, neon-like colors are your friend. Eye catching patterns and bold contrast will help seal the deal. If the website supports it, make sure you get an animated banner with plenty of motion and lots of color / brightness changes.
B: Getting the message across.
This is, in my opinion, something easy to achieve, but something most server owners get horribly wrong.
First of all, it goes without saying, make sure your banner looks good. Nobody is gonna click on a blurry, stretched banner that has nothing more than a stock image you got off of Google and some 90s gradient font taken straight from MS office.
This aside – check out this screenshot. It's an older screenshot from the survival servers list; I've circled in green where (My) eye lands when looking at each banner.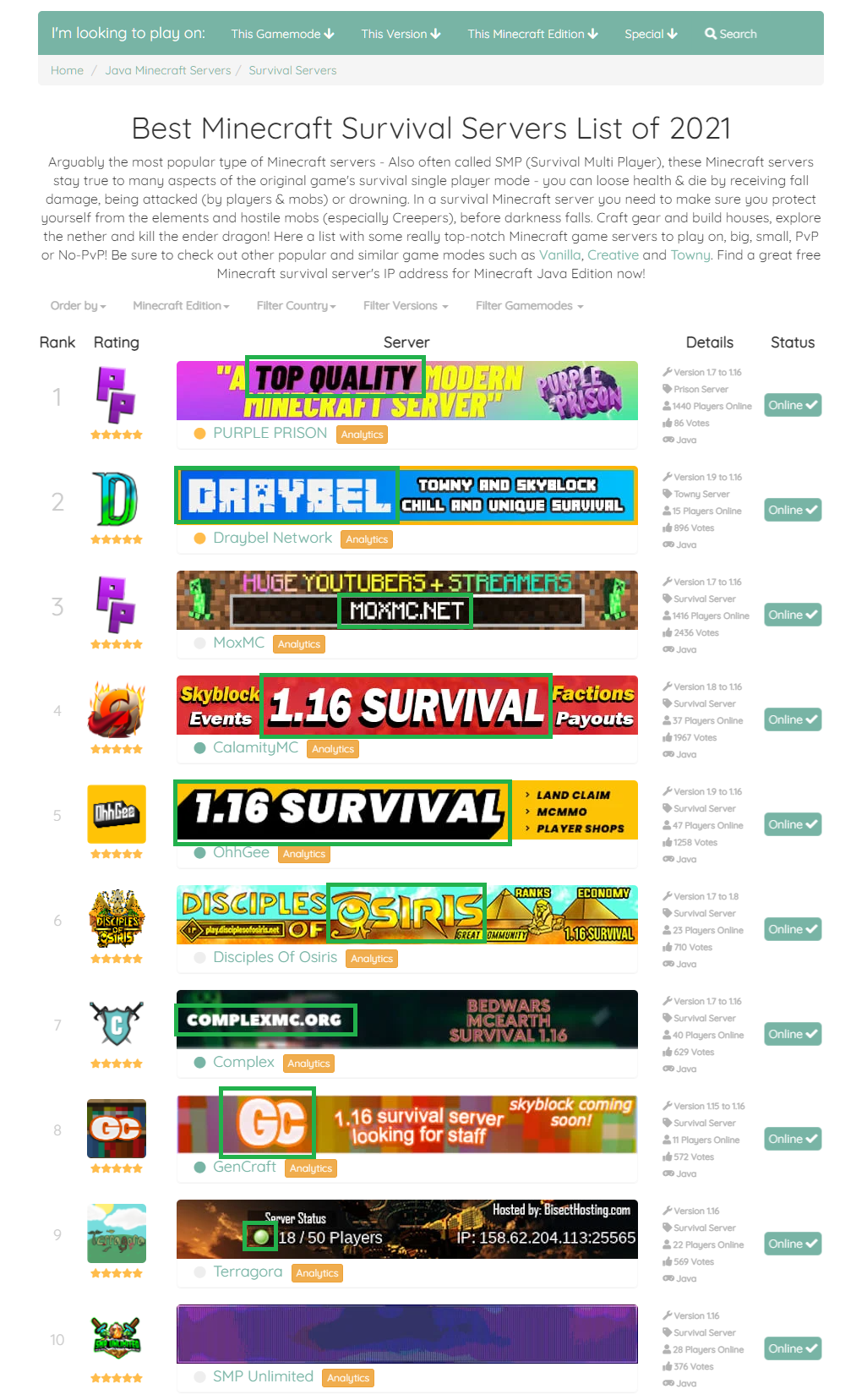 OhhGee has, by far, my favorite banner on the website, and is the one I provide as an example to every server owner asking for help with optimization. Calamity have been following my advice on banner design ever since joining the website and they haven't looked back.
Most players who visit that specific page are gonna be looking for a "survival Minecraft server". So, my general rule of thumb is, give them giant letters saying "survival". That's what they're looking for. If your banner looks cool, they'll click on it to learn more.
They're not looking for your logo;
They're not looking for your server's name;
They're not looking for a fancy pyramid;
They ARE looking for survival.
That being said, you may have something else that you may reckon will appeal to players more than "Survival". Maybe that's "Free Ranks", or "YouTubers", or "Looking for staff" – After all, you'll want to differentiate yourself from all the other servers they've looked at, especially if you're lower down the list. My advice is, try it out! See what performs best for your server, on the specific website that it's listed on, with the specific server banners that are directly above and below it. In any case, try and pick something short to showcase with big, bold, eye-catching letters. Different banners will appeal to different people, you just need to experiment and find the best combination for your particular case. Obviously same thing goes for colors, fonts, patterns, graphics, and so on.
C: Sparking curiosity.
This has been, for the most part, covered by what's been said so far. If you manage to convince players your server has what they're looking for, you're done.
However, one thing that will make a difference here is the quality of your banner. Between two identical banners (same colors & text), users would more likely be intrigued by a banner with really polished & balanced design, beautiful typography and interesting little details/graphics.
Conversion Rates
Conversion rates are usually pretty high after you've had an initial click, Usually around 50% – On Minecraft Buzz we calculate conversion rates slightly differently, instead of dividing you IP copies with the number of clicks received, we opt to divide by the impressions received. This is because we show IPs directly on server lists, some people copy them without ever clicking on your listing. The best performers are at around 3% and the worst ones are at around 0.5%. You still need to pay great attention to this though, you don't want people clicking back to find another server before they've even tried it. You've done all this effort to get them on your listing, now's your chance to really "sell" your server!
There's five things users are looking for:
An easy to read, detailed description. People usually have difficulty coming up with things to write about, but it really is extremely easy. Think of everything a player might ask you, or have to read through when they spawn, and type it. Why should they join your server, what's all that unique about it? What plugins and other features do you have? What are your rules, what are the various ranks you have and their perks, do you host any events on a regular basis? The list goes on and on.
Don't be afraid to write really long descriptions, just try and keep things readable and easy to skim through by using paragraphs, emojis, lists and bolds to point your reader's eye to the most important bits of text. Your aim is to make them realize your server's got that special mojo and friendly, mature community they're looking for. It's something they got to join – or they're missing on something.
And something to keep in mind: A features list with "MMORPG plugin" listed doesn't sound anywhere near as exciting as "Complete difficult quests, be the master of your own tale, fight off powerful mobs and be the conqueror of xyzcraft!". I hope you get my point, don't just "list" something, justify why it's so so great and why they have to experience it asap.
A link to your Discord server. If you don't have one, well, you should make one. There's lots of advantages to having a Discord for your Minecraft server – And it's completely free. By putting it on a list for Discord servers, you can eventually grow it into a small community of it's own, which can function as an additional source of players.
A link to your website (or server store).
A good, short, YouTube trailer. You want something impressive / exciting, which "validates" the server is all it's cracked up to be. What may play an even greater role, which some may miss, is the thumbnail of the video. Even if people don't watch your trailer, a good thumbnail can act as a subliminal message that testifies to the quality and uniqueness of your server. It could, for example, be an impressive build, or maybe a meme.
Positive reviews. Not all server lists feature reviews, but for those that do, it's important that you get all your existing, happy players, to each write a favorable review for your server. Just like in marketing, there's two things people really enjoy seeing: Charts and testimonials.
Time to get players!
That should cover everything on how to acquire more players on your Minecraft server, using a server list. Hopefully you've learned something new 🙂 If you've still got questions, feel free to join our Discord and ask away!